I Need Help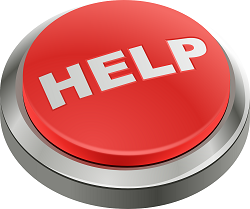 While the Lord Jesus was on earth, He showed His love to thousands of needy people, giving them help, hope and peace. As a church, we want to demonstrate His love to others around us, providing help in any way we can.
I Am Struggling And Need Prayer
If you are going through a difficult time - perhaps in a relationship, with your job, or having lost a loved one - you don't need to bear the load on your own!
Jesus says in Matthew 11:28, "Come to Me, all you who labor and are heavy laden, and I will give you rest."
If you are willing to ask the Lord for help, He is able and willing to answer you - and if you would rather have someone pray with you or for you, we would be more than happy to do this, either in your own home or at church. Please get in touch if you would like someone to pray with you.

I Am Uncertain And Need Guidance
Life brings many difficult situations and decisions, many of which we can lead to us feeling overwhelmed and clueless as to what to do next.
James 1:5 says "But if any of you lacks wisdom, let him ask of God, who gives to all generously and without reproach, and it will be given to him."
The Bible says that God has all wisdom and understanding - He made you, He made the world, and He understands exactly what you need to do in each situation. If you're willing to ask him for wisdom, He can guide you - and He can teach you the right way through His Word, the Bible.
Again, if you would like us to pray with you for wisdom and guidance, get in touch with us today.
I Am Searching And Need Answers
If you are looking for "the truth", for a reason for your existence, or simply wondering if there is a God, the Bible offers the answers!
In John 14:6, Jesus says "I am the way, the truth, and the life. No one comes to the Father except through Me."
In Jesus, and in His word the Bible, we have the truth that so many are seeking. It tells us who God is, what He is like, who we are and what we should do.
If you would like to know more about this, there are several things you can do:
- Get a Bible and start reading it for yourself (perhaps starting with the gospels).
- Come along to one of our Sunday services to hear the Bible being preached.
- Contact us to ask for someone to meet with you and discuss the Bible one-to-one.
We also have some further information on our Resources page which you may find helpful - but we would always encourage you to make contact with a church as well, so that they can help and guide you further.